Glock Lyrics

– Jinde Meriye | Dilpreet Dhillon | Parmish Verma
The Lyrics of Glock is latest Punjabi movie "Jinde Meriye" song is sung by Dilpreet Dhillon, and featuring Parmish Verma and Sonam Bajwa. This song

Glock Lyrics

by Laddi Chahal. Music by Desi Crew. Listen to the song with Read the full lyrics to

Glock

Full Song here now. Latest Punjabi Lyrics, Punjabi Lyrics 2020, Punjabi Song Lyrics 2020, Punjabi Songs Lyrics, All Lyrics, new Punjabi Lyrics for here now available.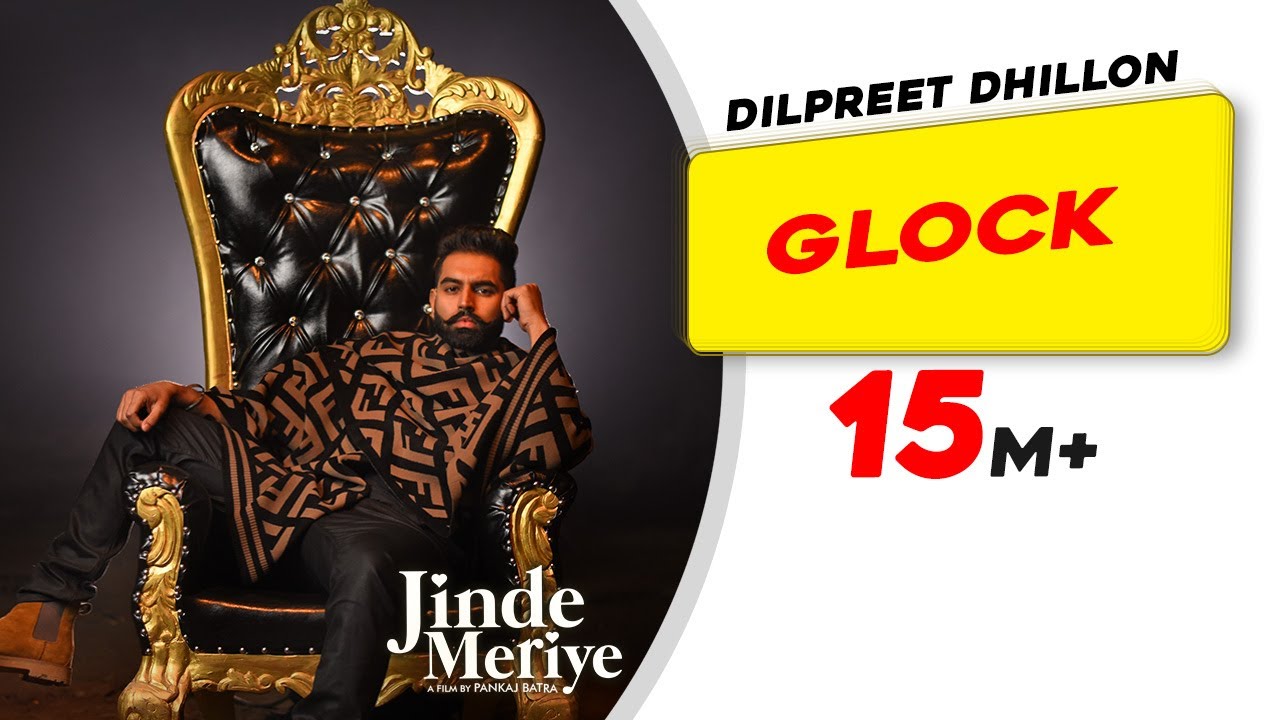 Starring: Parmish Verma, Sonam Bajwa, Yuvraj Hans,
Produced By: Pankaj Batra, Ashumunish Sahni, Aniket
#Latest Punjabi Songs 2020, #Punjabi Songs 2020, #Punjabi Song 2020, #Songs 2019, #New Punjabi Songs 2019, #Latest Punjabi Songs is 2020, #New Punjabi Songs 2020


"Glock Lyrics"
***************************************************************
Ho laga dabb'ch Glock jaawe jatt turiya
Jatt turiya, jatt turiya
Laga dabb'ch Glock jaawe jatt turiya
Jatt turiya, jatt turiya
Ho Ghode asla bilayti jeda chak turiya
Chak turiya paun tak turiya
Painda dabb'ch Glock jaawe jatt turiya
Jatt turiya, jatt turiya
Hooo…
Ho Gadyaa raaha da kai raahi aakh De
Maut chandri da kehi kai maahi aankh de
Ho kai aakhne jaande pachan munde nu
Sehr tere jatt nua tabhaai aankh de
Aai maut te naiyo munda vairi karda
Fire duriya te bigade jatt firda
Laainga legvensik takk bolda
Bolde bandook munda katt bolda
Appan lagda barora pura kabhra'ch rola
Aunda gun ni karona thak thak turiya
Munda dabch glock jaawe thak turiya
Jatt turiya, jatt turiya
Laga dabch glock jaawe jatt turiya
Jatt turiya, jatt turiya
Ho Ghode asla bilayti jeda chak turiya
Chak turiya paun thak turiya
Labhda dab'ch glock jaawe jatt turiya
Jatt turiya, jatt turiya
Ho shera aale jigra tere gappe yaar da
Firda streeta wich gode maarda
Ho bharde aule vairi jhang de
Tere jatt nu pakk chamion aankh de
Bethe bawa kude darde jawaab sun lai
Paunde 9mm khdak sunn lai
Ho kidra da wangu wangu jhund jendi rehnda
Kall firda muchha nu kehnda batt turiya
Munda dab'ch glock paawe jatt turiya
Jatt turiya, jatt turiya
Labha dab'ch glock paawe jatt turiya
Jatt turiya, jatt turiya
Ho ghode asla bilayti jeda chak turiya
Chak turiya paun thak turiya
********************************************************
Also See:
#Latest Punjabi Songs 2020, #Punjabi Songs 2020, #Punjabi Song 2020, #Songs 2019, #New Punjabi Songs 2019, #Latest Punjabi Songs is 2020, #New Punjabi Songs 2020